I will be announcing our May winners shortly but first I would like to introduce you to our June edition of
Tips, Tricks and Techniques
brought to you by team member Anna Uhras.
My June Layout ... "step by step" by Anna Uhras
Hi Everyone!
Anna here today showing my "step by step" making my layout this month.
I think this is pretty typical "my way" of scraping.
I start choosing papers and make my layers to have under my photo.
When I am satified I often staples my stack of paper.
Next layer for me usually is some ordinary thread, here black, white and some green.
I also added a cluster of banners.
Time for the top layer of photos and here also a PL-card.
Usually I use 3d tape to mount my photos.
Now I put my stack of papers/photos away for a while to prepare my background cardstock.
This time I used some distress ink on a plastic mat, sprayed some water and just stamped it randomly over my cardstock until I was happy.
Sometimes I just splatter some color mist instead. It depends on how I feel.
Time to mount my stack of papers/photos and for that I have used some double-sided tape.
I decorated it pretty simply with two fussy cut arrows and my title. Used my sewing machine over my title, I love that effect.
Usually I also do my journaling with my own handwriting even if I really do not like my own writing but I think it may be a nice memory for our kids someday.
Well that's how my layout came out.
And here is the result.
Thank you Anna - I just love this page :)
and now onto our May winners .....
We were working with this amazing artwork by
John Maitland called Seven Girls Running.
CRITERIA - GIRLS ONLY
Shazza is our winner of the prize pack from Kaisercraft.
Everyone just loved this quirky canvas.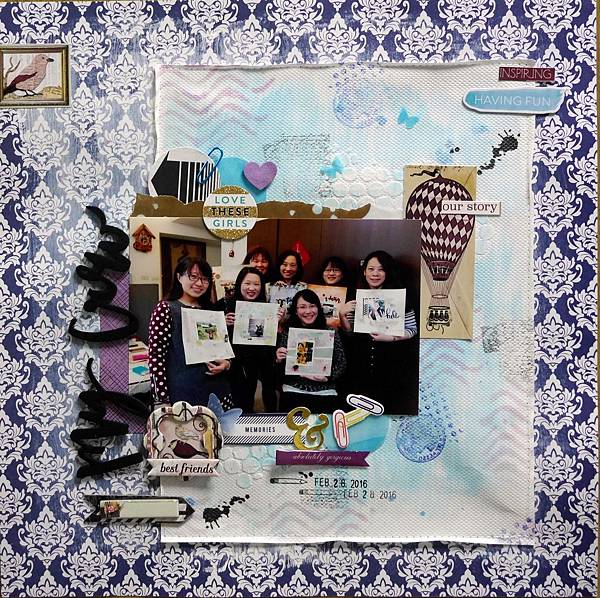 Our
random draw winner
of a lovely prize donated by Elaine Schoof is # 8 - Margaret Crawford.
Could the winners please contact me on jjjustjane@bigpond.com with their postal details.

You have until the announcement of the winners for next month to do so.

Don't forget to grab our winners badge from the sidebar.
Our
Creative Team highlight
from last month is
Kat. She will receive a little surprise something from me.
Don't forget to enter this month's ARTastic challenge. All the details are in the left sidebar. Remember you have until the end of the month to submit your entry.
Please pop back on the 15th when we will have more delightful team inspiration to show you.