I will be announcing our August winners shortly but first I would like to introduce you to our August Tips, Tricks and Techniques brought to you by team member Karen McLaughlin.
Using tags on your layout by Karen McLaughlin
* Tags are a great way of using up those scraps of paper that get leftover from projects.
* I keep my scraps of paper/cardstock in a concertina type file in colours so that it's easy to find what I'm looking for.
* Tags are a great option for those masculine layouts.
* I do have a tag punch but you can easily cut out tags yourself using a template.
* For my September layout I used a hole punch or you could use a Crop-A-Dile to add a hole.
* I used some cheap white hole re-enforcers and inked before placing.
* Adding a length of wool, string or twine works well.
* You could add extra texture by distressing the edges of the tags.
and now onto our August winners .....
We were working with this this delightful woodcut by
Thea Proctor
called The Swing. It is printed in black ink, and hand-coloured on cream rice paper and is hanging in the Art Gallery of NSW.
CRITERIA - The use of black pen on your work
Louise Turner is our winner of the prize pack from Kaisercraft.
Our random draw winner of a lovely prize donated by Sue Smith is #10 Hannah Zheng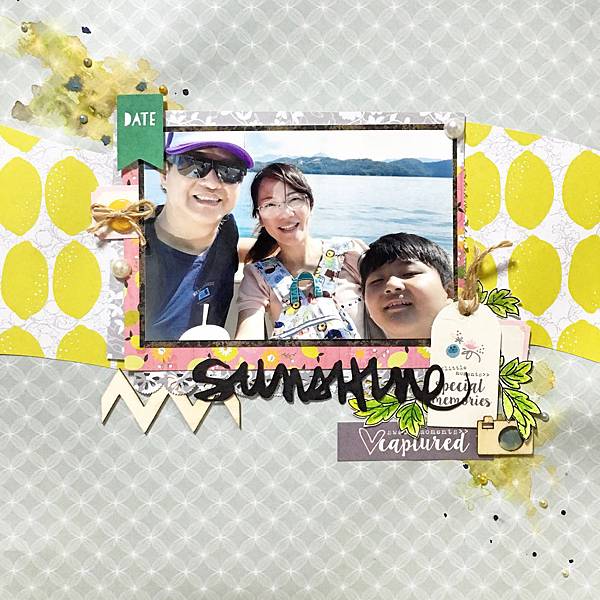 Congratulations ladies.
Could the winners please contact me on jjjustjane@bigpond.com with their postal details. You have until the announcement of the winners for next month to do so. Don't forget to grab our winners badge from the sidebar.
Our Creative Team highlight from last month is Lizzy. She will receive a little surprise something from me.
Don't forget to enter this month's ARTastic challenge. All the details are in the left sidebar. Remember you have until the end of the month to submit your entry.