I will be announcing our August winners shortly but first I would like to introduce you to our
Tips, Tricks and Techniques
for September brought to you by team member, Evelyn Walter.
H
ello dear ARTastic followers, nice to have you here today!
Today I want to show you some ways to use acrylic paints in your artwork. Maybe you are npt familar with one of these techniques and will want to try it out on your next project!
I used for my art journal page heavy body acrylic paints but you can also use more fluid ones.
You don´t need to use a paintbrush, you also can use a brayer to spread your paint around the page. it will create a totally different look.
If you want a more transparent look, take a babywipe to take off some of the paint.
Create texture! Take some texture tools and go through the wet paint. Of course you can make them by yourself, just take some sturdy cardboard and cut the edges or use a fork, the handle of a brush, ...... there are endless possibilities, just try them out!
Why not take your fingers for painting? Dab dots, smear the paint around, make texture by dabbing into the wet paint and so on. It´s fun, try it!
Create small strokes or wider areas with an edge of some cardstock. For this you can use an old credit card too.
Well, of course you can simply paint 😉. Take more or less water, mix the paints, use them as they are, just have fun!
I took acrylic fluid medium to make some glaze. This is a great way to change opaque paint into translucent paint..So you can slightly change the color of your work without covering the underneath pattern! For this you can use matte medium too.
Use a brayer to create a thin layer of paint and dab in your stamp carefully. Then use your stamp as usual. But it is important to clean your stamp immediately after use!
Well, these are some ways to use your paint! I hope you feel inspired to try out one.
~ Evelyn ~
now onto our August winners ..... thank you to everyone who took the time to join in with us last month.
Our main winner is #1 Louise Turner
Our random draw winner is #8 Hannah Zheng.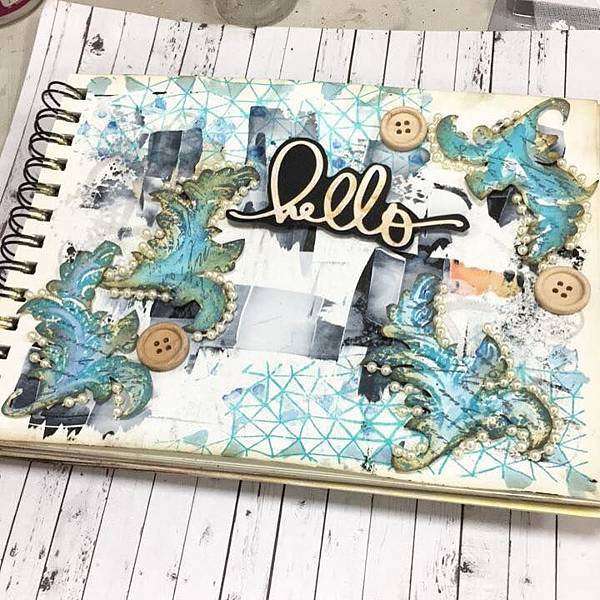 Prize donated by Maria Shakhova
Could the winners please contact me on jjjustjane@bigpond.com with their postal details. You have until the announcement of the winners for next month to do so. Don't forget to grab our winners badge from the sidebar.
Our Creative Team highlight from last month is
Anna
with this amazing layout.
Please don't forget to enter this month's ARTastic challenge. All the details are in the left sidebar. Remember you have until the end of the month to submit your entry.
This month we are going to relax our rules so you may combine your entry with other challenges.