I will be announcing our June winners shortly but first I would like to introduce you to our July edition of
Tips, Tricks and Techniques
brought to you by team member Tracey Henly.
Mixed Media Background with Tracey Henly
I always start with a 12 x 12 sheet of chipboard.
Then using matt gel or your favourite glue add some texture to the background with ribbons and mesh. Remember with this technique it does not matter what the original colour of any of your pieces are as we are going to change it.
I then added more texture with a template and some whipped spackle and then let it dry.
Once this is dry add some chipboard, metal charms or any accent that compliments your layout. I use helma 450 for my glue of choice.
Once everything is dry paint white gesso over everything and let it dry.
With this layout I used Lindys stamp gang sprays and some of he new prima alchelmy acrylic paints.
I put the prima flowers on last as they were really beautiful as they were, so I didn't need to paint them to match the layout. I actually chose my colours to compliment the flowers.
and now onto our June winners .....
We were working with this amazing artwork by
Anna Collins
called
Top Hat Tiger.
CRITERIA - Black and White plus one other colour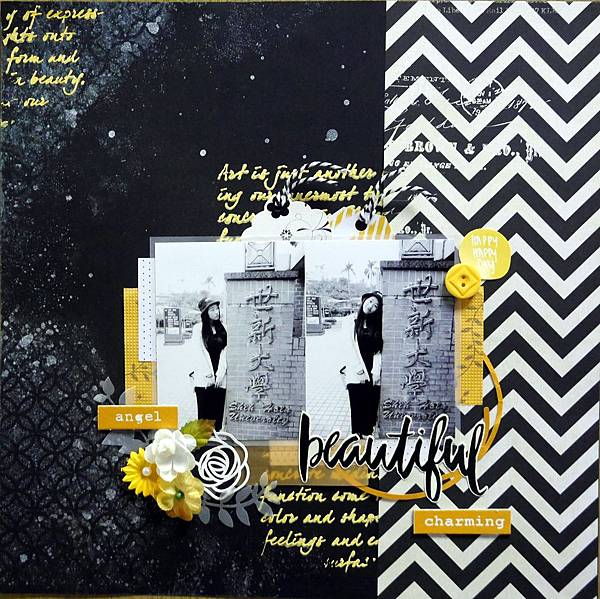 Cathy Lu
is our winner of the prize pack from Kaisercraft.
Our
random draw winner
of a lovely prize donated by Anna Uhras is #7 Jessika
Could the winners please contact me on jjjustjane@bigpond.com with their postal details.

You have until the announcement of the winners for next month to do so.

Don't forget to grab our winners badge from the sidebar.
Don't forget to enter this month's ARTastic challenge. All the details are in the left sidebar. Remember you have until the end of the month to submit your entry.